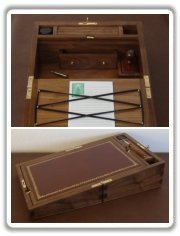 Looking to building your own Writing Slope?
We offer help and advice by creating pages regarding
the construction
of a writing slope for those who would like to
build your own
. Along with tutorials, we have lots of pictures, so visit our
Gallery of Images
. Each opens up to larger, more detailed photos with descriptions. Visit
our site map
to see all that we offer. Please enjoy your visit.
*
PS: We have closed down
our custom woodworking shop. If you are looking for a custom, handcrafted writing slope, we no longer offer this service.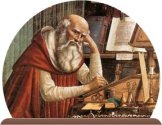 Electronic devices like iPhones and tablets
have taken over our world. Social media is now the norm. Handwriting letters, diaries and journals seems to be a lost art, but we hope to help bring it back. We have dedicated this site to those who like to hand-write letters, keep journals, practice calligraphy or just use handwriting in their everyday correspondance.
We offer writer's supplies
such as desks, journals, fountain pens, inks and ink pots, vintage reproductions, rocker blotters, lap desks and more.
» See the list
---
---
---
Back when we were building custom
Unfinished Writing Slopes
the client wanted to do the finish work themselves. Many times this includes installing the leather on the writing surfaces. Our hope is that this tutorial, based on our own experience, will help those who plan to do just that. »
read more
Leather by the Piece

Pieces are cut from sides that are specially tanned for use as upholstery leather - very supple, soft and lightweight. Just a little heavier than garment weight. For projects such as lap desks, writing slopes, small purses, cases and bags, book covers and more. »
View All