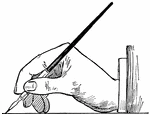 Client Feedback:
We are honored to have received the following feedback from our custom box clients regarding the work we did for them. Comments like these helped us stay focused and encouraged us to learn how to improve our crafting skills and our customer service.

As you probably know by now, we have closed down our woodworking shop. We are retired now - kicking back, enjoying the beautiful Northern Arizona weather! Thanks for visiting our site. ~ Dan & Deb McBride
---
The following testimonial is from SC from Washington ...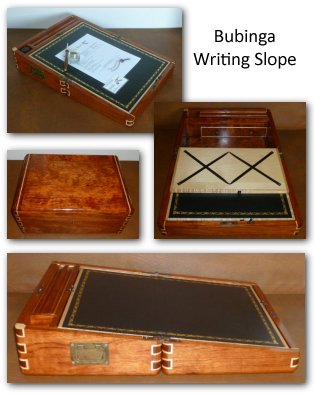 When I decided to get a writing slope, I knew that I wanted an old style object that was nevertheless new. I knew that aesthetics mattered, and the McBrides' web site seemed to suit my taste well.

The McBrides clearly have substantial experience in the building of custom writing slopes. While we were agreeing the details, I was shown several photographs of other boxes or of different woods, which were very helpful. After ordering, I got a phone call the next day to ask for a couple of clarifications and to discuss my preferences in wood grain. During the construction process, the McBrides made sure to send me periodic updates.





The quality of the finished writing slope is exceptional. It is an extremely fine object, worth the price, and it is an equal to my finest fountain pens. The materials, instruction, and finish are all excellent. Everything fits together nicely, both in mechanical and aesthetic terms, and the bubinga wood is very pleasing in terms of color, grain, and smoothness.

The writing slope is a great enhancement of my writing experience. Thanks for your excellent work! ~ SC from Washington
---
The following testimonial is from DG from Washington ...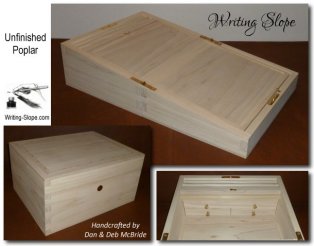 It's here! And we are both delighted. Dan, this writing slope is not only a beautiful example of wonderful craftsmanship, but truly a work of art.

My wife is so happy with this special birthday present. I can't imagine what I could have gotten her that would have made her as happy as she is with this treasure. (view Client Finished Slope)





Please accept our thanks for the work you both have put into this birthday gift. We appreciate your work and friendly, caring customer service. ~ DG from Washington
---
The following testimonial is from DM from Illinois ...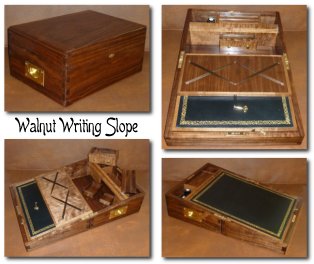 One of my first thoughts regarding my writing slope upon its arrival was how beautiful it was. The walnut wood, the dovetail joints, and the beautifully tooled black leather make this slope a work of art.





My pens, ink, and paper all fit into each compartment created for them. It was a bit heavier than I thought it would be; but that doesn't deter me from using it.

Thank you so much for such a wonderful, beautiful, and most useful piece! ~ DM from Illinois
---
The following testimonial is from KB from Illinois ...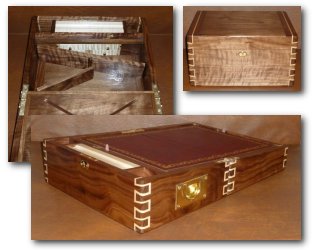 For a few years I have been looking to acquire a writing slope. I searched Ebay, On-line auctions sites, and even looked for plans so that I could build my own. Well I was never able to find any plans. Then one day I came across Dan & Deb's site and I was amazed with all the beautiful photos of the slopes that they make.





I filled out their on-line quote form and with in minutes had a price quote. About a month later I received the Slope. Dan, Deb. I want to thank you for the outstanding job you did on my Slope. The quality is fantastic, and will last many life times. Something I will be able to pass down to my Grand kids. Thank you again for the outstanding Job. I LOVE IT!!!!! ~ KB from Illinois
---
The following testimonial is from GS from Tennessee ...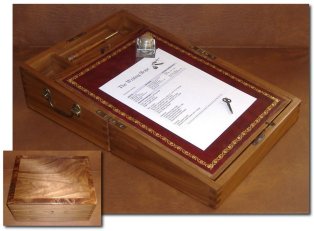 It has arrived and I just adore it! You all have created a beautiful writing slope -- I know you hear that often.





I had looked at ones in antique shops but they were in such disrepair. I was interested in a fully functional one in very good condition.

I am so glad that I found you on the Internet. You have made my day!! Thank you. ~ GS from Tennessee
---
The following testimonial is from HO from Mississippi ...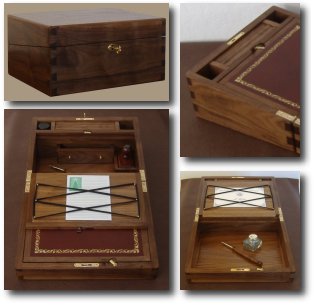 The writing slope is a work of art and a treasure that will be passed down through the generations of my family! The photos don't do it justice as the wood is gorgeous. The box has a feeling of satin it is so well done. I could not have been more pleased!





The attention to detail is incredible down to a maroon ribbon on the key! It was built to add a space for the blotter I requested which shows great flexibility and ingenuity!

The McBrides were a joy to work with and I highly recommend them for any type of work they offer. ~ HO from Mississippi
---
The following testimonial is from JM from South Dakota ...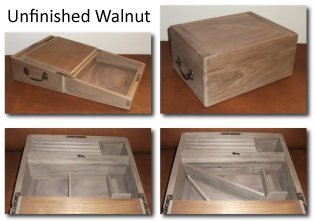 We are a small business who deals with leather journals and the history of handwriting. We've been looking for quite some time to find an authentic writing slope to use as a part of our business.





Working with Dan and Deb was a great experience! The ordering process was extremely simple with the two of them paying attention to every customization of our slope. Dan's craftmanship is flawless while his attention to detail is amazing. We are extremely happy with our writing slope. It is an amazing addition to our business as we can accurately show our customers how it looked to write a letter in the 1800's. ~ JM from South Dakota
---
The following testimonials are from KR from Colorado ...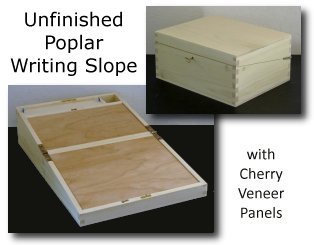 I can't tell you how much I really appreciate the writing slope you made for me. The slope is absolutely gorgeous, and the craftmanship supurb.





My uncle said that your dovetail joints are the finest he's ever seen, and we both agree that the slope is of very high quality. Thank you again!! ~ KR from Colorado
Dan and Deb have had a run on writing slopes lately, and with good reason!

From the first simple poplar slope I ordered, to the Twain box and my stationery box, right through this fabulously exquisite Rosewood slope, Dan and Deb only continue to improve on perfection.

The more challenging, the better, and they have truly created the most priceless heirloom pieces for me that I ever could have imagined.

This slope is the most beautiful yet! I am forever grateful. ~ KR from Colorado
---
The following testimonial is from RC from Missouri ...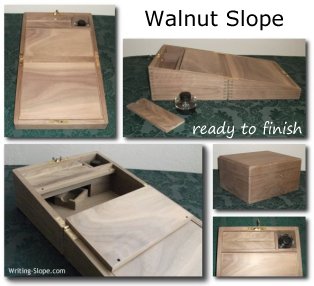 After sitting on the fence for a month, I finally pulled the trigger and with the help of Dan and Deb, designed a writing slope. Deb and Dan then turned that dream into reality, and what a gorgeous and sturdy writing slope.





Everything is truly built to last, and every piece of wood is picked to show it's best side in the finished piece. Each little swirl and micro knot-let was displayed as if that piece of wood had grown up specifically for this project.

I had ordered a slope done in black walnut, and I was worried about the loss of color due to the modern steaming and processing of walnut. However, after a nice layer of tung oil, it was apparent that the walnut still had it's wonderful warm glow.
I had asked for a secret drawer put in, and when oiling the wood, also, being an unfinished writing slope, I was half expecting something that needed a little touching up with sandpaper, but was I wrong. Everything was as soft and smooth as a baby's behind, just ready for what ever finish your heart desires. I couldn't help but notice the care that was taken to assemble each component. Being a custom, one time project, it is expected that everything is not perfect, but those spots have been repaired with the utmost care becoming invisible in the final project. If you're looking for something that is machine made and perfect, look somewhere else.

If you're looking for something that is obviously made by caring hands to be passed down from one generation to the next, Deb and Dan are the ones to see. I would definitely come back again for another box. ~ RC from Missouri
---
The following testimonials are from our friend RR from Tennessee ...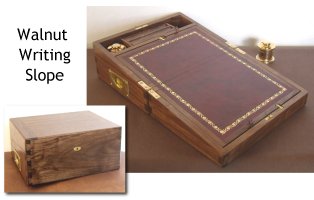 I received my writing slope yesterday just as scheduled. It is absolutely, positively, magnificent. The workmanship is divine! Dan did an outstanding job on it. I'm almost too afraid to use it for fear that I might damage it. - RR from Tennessee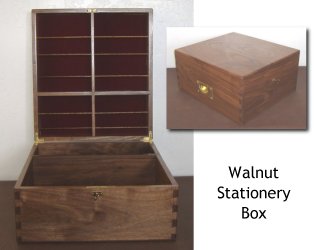 After I received my writing slope, I began to realize that I needed something as special to store my favorite stationery. I began to research stationery boxes and found none that suited my needs or desire. As my search continued, I slowly arrived to the conclusion I wanted this new stationery box to match the writing slope Deb and Dan had produced for me. This convinced me only they could produce a box I would be happy and proud to own.

I sent hand drawn plans (2 semesters of college drafting classes finally paid off!) to Deb who worked tireless with me via email to work out the details. Then Dan took time from his very busy schedule to call me and inquire even further about some minor changes he wanted to recommend.





The result? A beautiful stationery box that is magnificent. It matches my writing slope perfectly and is a beautiful sight to behold. Bravo Deb and Dan! ~ RR from Tennessee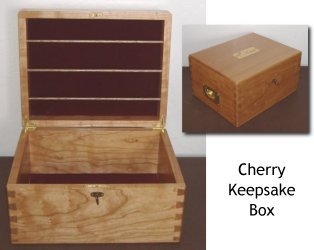 I wanted to give a very unique and special keepsake box to someone very near and dear to my heart. Knowing their work very well, only Deb and Dan came to mind as being capable of making such a box.

Using plans from previous keepsake boxes, they made a beautiful box I was thrilled to give and were even gracious enough to install some extras I wanted, such as felt and a name plate I had made.

In an age of terrible service and lack of concern for the customer, purchasing from Deb and Dan is more akin to making and visiting friends than a business transaction. - RR from Tennessee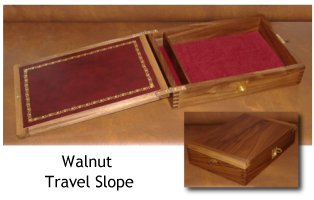 Spending 2 long days without my writing slope in a hotel room during the Washington, D.C. blizzard of 2010 was more than I could bear. The solution, Dan and Deb of Arizona Specialty Woodcrafts course!

My cabin fever during some 2 to 3 feet of snowfall gave me ample time and resulted in another set of hand drawn sketches for a "Travel Slope" (Travel Box in Ms. Deb's language). And once again, she and Dan were fantastic and outdid themselves as they brought my vision to realty.





It is a beautiful addition to my family of Dan and Deb's creations. Now I can take my favorite stationery on the go to anywhere and have a beautiful mini writing slope to do my writing. ~ RR from Tennessee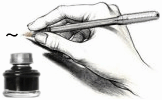 Overall CommentsNo one in the business of wood can produce such fine things that will last for a lifetime. Comforting to know there are those that still want their workmanship to become their legacy and live beyond them. It is obvious Dan and Deb feel that way about their work.

Well made and beautiful wood items that will last lifetimes were not just produced generations ago but are still being made today by a select few. One look at Dan and Deb's fine wood creations and you will understand. They are within the ranks of those select few among us.

Don't buy an antique writing slope but rather have Deb and Dan build one for you. Then you will have your own that you can give to your children and grandchildren to become your family's heirloom with its own history and allure.
~ RR of Tennessee