---
» Corner Joints
A beginner woodworker can create simple rabbet or miter joints and still create a beautiful writing slope. If you are more experienced woodworker with advanced machinery, decorative joints such as inlay dovetail are a lot of fun.
---
» How Many Inkwell Compartments?

(click each image for a larger view)
If your longest pen is over 7", we recommended only one (1) inkwell compartment.

NOTE: You will need to know the size (L x W x H) of your ink bottle(s).
» View popular ink bottles here ...
---
» Drawers and Hidden Mini Drawers

(clicking on each image will open a larger view)
Hidden mini drawers can be tucked back inside and under the inkell compartments. Therefore it is important to know the size of the ink pot or bottle to be used with the writing slope. This will determone the overall height of your desk during the construction layout.
---
Integrating a Rocker Blotter Storage Compartment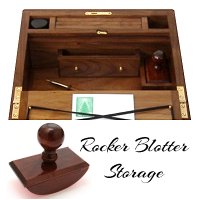 If you plan to use a rocker blotter, we figured out a way to store it inside the desk. With our design, we added a custom partition so that the rocker blotter is snug in place during transport. We placed it in the back compartment, where various drawers and inkwell compartments were located. This seemed to be the best location, allowing headroom for this tool to stand upright.

» Read more
---
---
» Leather for the Panels

The leather, once glued in place, serves as the 'hinge mechanism' for the writing flaps. Take a look at this quick image tutorial which will hopefully explain in more detail about installing leather.


Mahogany Leather


Black Leather


Antique Blue Leather


Forest Green Leather


Chestnut Leather


Blackberry Leather

⦿ Adding Leather ⦿ Hardware ⦿ Rocker Blotter Compartment ⦿ Building a Slope