Lamy™ Fountain Pens, Converters & Ink
Lamy™ is the leading producer of fountain pens in Europe. From elegant to practical, Lamy pens have had a long tradition and reputation of excellence.
---

Modern and Functional, this This Fountain Pen of the Lamy Logo Brushed, in every version, goes beyond the idea of the writing instrument to become a a status symbol and an ideal gift for yourself or other handwriting enthusiasts. We recommend the Lamy LZ26 converter. It has a rich and sturdy ABS plastic body that allows you to draw ink from ink bottle.
---
Lamy™ Fountain Pen Converters

Rich and sturdy ABS plastic and allows to draw ink from ink bottle. Lamy is not only the market leader in Germany , it has become one of the main brands of writing instruments in the world. Lamy's are known for their great quality at an amazingly affordable price. Check out the Lamy T-10 Black Ink Cartridges Pkg 5, suitable for the majority of Lamy Fountain Pens.

Lamy Z24 Refill Converterfor AL-Star, Joy, Safari, Vista

Lamy Z26 Refill Converterfor Accent, CP1, Dialog 3, Linear, Logo
---
Lamy™ Ink Bottles with Blotting Paper
Includes one bottle per pack with a roll of blotter tape used to clean the pen after filling, or to blot writing.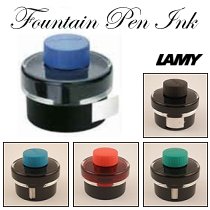 These are specially shaped with a wide neck and a basin to collect ink to aid filling when close to empty.

50 ml bottles - 2½" x 2½" x 2½"

» Blue Ink
» Black Ink
» Blue/Black Ink
» Red Ink
» Green Ink
» Turquoise Ink
---
As an associate with
Amazon.com
we earn a small commisson for sales generated through these product links.