Rocker Blotters ~ Ink Blotter Paper
---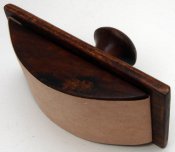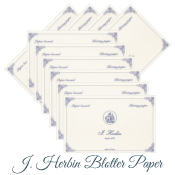 Back in the 1800's blotter paper, a soft, absorbent paper, was used to absorb excess ink left over from writing with a quill or fountain pen.

It wasn't until the late 1800's that Rocker blotters became popular here in the USA. Their popularity lasted until about the 1950's.
The Rocker Blotter is a writer's tool used to blot excess ink - basically designed so that you don't have to wait for the ink to dry.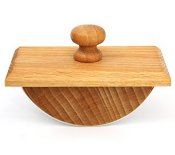 Most are devised with a handle that unscrews allowing you to insert blotter paper onto the rocker. When you re-attach the handle, it tightens down the blotter paper. Rock the blotter back and forth over your wet writing while the blotter paper soaks up excess ink.

← Shown Here: Wooden Rocker Blotter w/ Natural Finish
---
» White Quill Pen w/ Decorated Silver Metal Handle
» Glass Inkwell & Classic Ink Blotter
» Solid Wood Desk Organizer w/Mahogony Finish
» Overall size: 9½" x 4 ½"
» organizer has a Black Felt Bottom
» 2 top Interior Spaces
» Each space measures 3¼ x 2½"
» Front slot / cradle for Pen

---

---

» 10 Pre-Cut Blotter Papers
» Fits J. Herbin Ink Blotter
» Each Sheet = 3¼" x 1⅞"
---
As an associate with
Amazon.com
we earn a small commisson for sales generated through these product links.