---

For years my husband has wanted to build a lap desk designed after the Thomas Jefferson's 1776 Writing Desk. He finally built one! This desk is not an exact duplicate, but many of the features are similar to the Jefferson Writing Desk.

This one is made of Birch, Birch Veneer and Hardboard. When closed, the overall dimensions are 15" x 11½" x 4" H. Dan finished it with a clear lacquer spray.

The images below are photos of Dan McBride's Version of The Jefferson Writing Desk. Please Note: This desk has been sold.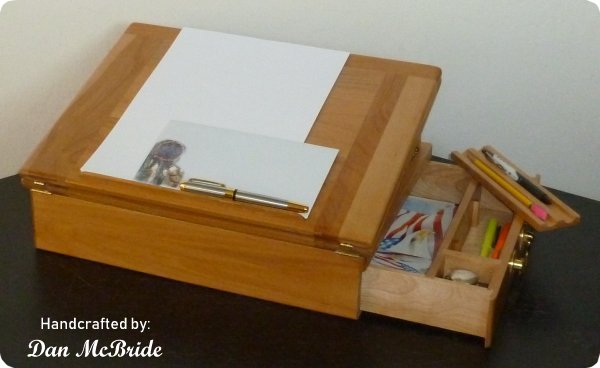 There is a small 2" x 2" x 2" square ink bottle compartment on the left side of drawer designed to fit this inkpot. The pen storage compartment, has a removable pen cradle/lid that lifts up by pressing on one side. This causes it to 'pivot upward' for removal. Behind the drawer is a large storage area for paper, notepads, envelopes, magazines, etc.

▸ Three side views: (1) Desk Closed (2) Panel Lifted (3) Second Panel Extended
▸ When the Hinged Panels fold out, you get a Larger (23" total) Writing Surface
▸ Panels have Brass Hinges w/ Earth Magnets in corners to hold together
▸ There is a Brass Bail Handle on the Drawer
---

Hinged Support Bracket in Back
(raises surface at a writing angle)


View of the Back with Support in Place
(folds back down on hinges)
---