Writing Desk Plans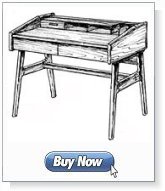 Simple Writing Desk Plans
The small drawer and pigeon-hole assembly provide for useful storage of writing utensils and papers. The two large drawers under the desktop are rabbeted at their bottom edge to act as drawer pulls.

A great piece that looks the part of antiquity. Overall size: 42" L x 26" W x 34" H.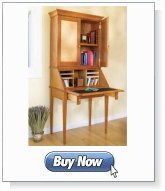 Slant-Front Secretary Plans
Combining the stunning beauty of solid cherry with quilted maple veneer, this design enhances any room setting.

Pull-out sleepers support a drop-down front that features an imitation leather writing surface. A large drawer for supplies and ample pigeonhole space in the desk for paper and letters are supplemented by the upper cabinet's roomy shelving.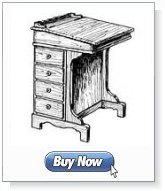 Captain's Writing Desk Plans
Fit almost anywhere! Great for a den, a kitchen, or study -- perfect for letter writing and bill paying. Features four drawers and the hallmark lift-top lid. The inside can easily be partitioned in a custom manner.

Full size patterns make this project "do-able" for any skill level. Strong joinery of solid wood. Finished size: 21" W x 23" D x 31" H.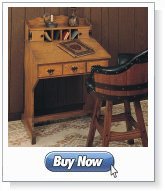 Captain's Desk Plans
The hinged top opens to to a handy storage area.

Also includes a shelf, drawers and pigeonholes. This desk measures 44" tall x 31" wide x 26" deep.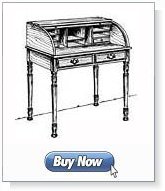 Small Roll Top Desk Plans
Two drawers are below the writing board, plus two more drawers and a rack of pigeon holes behind the 1/4 circle tambour offering alot of storage in a small space. This is a really nice project for a hallway, an office, or even the kitchen where space is limited.

The overall size of this precursor to a full size roll top: 22½" deep, by 37½" wide, by 40" high.
Drop Front Desk Plans
The original of this 19-1/2" deep, by 37-1/2" wide, by 40" high desk was made about 1720, usually of pine with maple legs and stretchers.

The cross stretcher is placed at the rear to allow more leg room. The scroll cut aprons add to the antique appeal of this design.
---
We are a participant in the Amazon Associates Program, an affiliate advertising program designed to provide a means for sites like ours to earn advertising fees by advertising and linking to
Amazon.com