Calligraphy Pens, Nibs & Inks
---
A party in a box for the dedicated calligrapher of any level! It's the art of fine lettering, and you are the artist!
Three pens, each with a different nib grade, and a generous assortment of ink colors allow for multiple colors on the same project without cleaning the pen. A step-by-step instruction booklet is included, meaning you can become a calligrapher in four easy steps.
This Kit includes:
» 3 Sheaffer® calligraphy pens
» 3 Nibs (fine, medium, broad)
» 14 assorted Skrip® ink cartridges
» 1 Calligraphy instruction booklet
---
Made in USA, Speedball makes these long-lasting, standard dip nibs for all types of lettering with ink and other water media.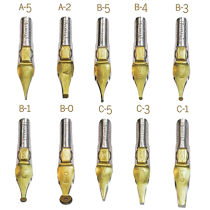 Crafted of the finest steel since 1899, this pen nib assortment is ideal for calligraphy and lettering.
Set includes 10 hand crafted nibs, one each: A2, A5, B0, B1, B3, B4, B5, C1, C3, C5. Triple reservoir design features three reservoirs for increased ink capacity and extended smooth, uninterrupted ink flow. "A" style pen nibs have a square pen point and are ideal for black and poster Gothic letters, ornamented borders, designs and decorations. "B" style pen nibs are ideal for forming Roman gothic alphabets, uniform line drawings, borders and display posters. C" style pen nibs are perfect for Roman gothic alphabets, Italic alphabets, accented line drawings, scrolls and scripts.
---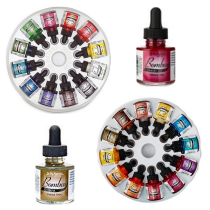 Inks can be diluted with water and used with brushes in traditional watercolor techniques or in dip pens, technical drawing pens, and airbrushes. Two sets of 12 available. Each has 1 oz. glass bottles with droppers and mixing palette ... made in the USA
» Vibrant India Inks
» Made from the finest ground pigments
» Lightfast, permanent, and waterproof when dry
» Unique colors available as 2 different sets of 12 each
»
Bombay Set One
»
Bombay Set Two
---
Perfect for scrapbooks, journals, drawing, sketching, and much more.
Acid free, archival quality, water proof, and Non-Toxic ... made in the USA.
Each Glass Jar:
- 1-3/8" x 1-3/8" .4 fl.oz (12ml)
- Black, Red, Blue, Green, Brown
- Gold, Teal, Silver, Purple, White
- 9" round white plastic palette
---
Calligraphy Reference Books
A comprehensive calligraphy course between covers, taught by a distinguished calligrapher.

Therapeutic and rewarding, calligraphy is popular both as an art form and a form of relaxation - and here's the perfect no-fuss, no-muss starter course!

» Author Mayanne Grebenstein
» Spiral Bound
» Released Sept. 1, 2006
---
As an associate with
Amazon.com
we earn a small commisson for sales generated through these product links.